News
How to Respond to Negative Reviews in the App Stores
Oct 15, 2021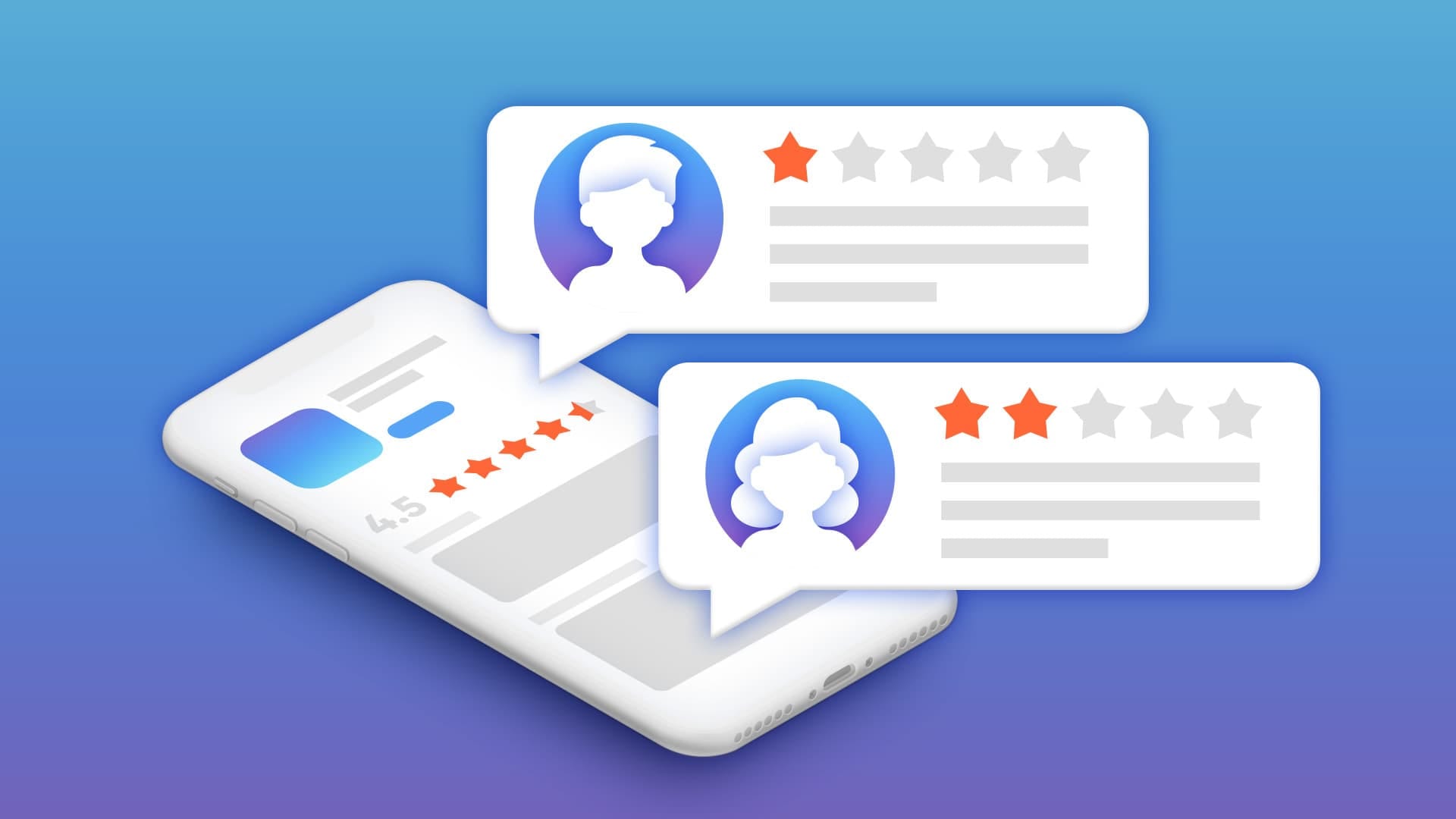 Today we talk about negative app reviews in the stores, provide real examples, and explain how we respond to them. This article will be useful if you want to learn the real developer's experience or just see the weirdest examples from our routine.
What are negative reviews
On average, a negative app review is a review with 3 or less stars that reflects a user's poor experience with an app. However, a bad review is not necessarily the one with a low rating. Some users prefer to give you a good score (4 or even 5 stars), but write a comment describing all inconveniences they experienced.
And vice versa, not all low-starred reviews are negative. Some people accidentally tap the wrong button and give you 1 star with a laudatory comment. We'll talk about such a case later.
Why are negative reviews important?
Users' complaints point out flaws of your product, areas you can improve. And this is exactly what developers should pay attention to.
For example, we recently faced negative feedback — a user was satisfied with the app all in all but reported a missing object in Star Walk 2. He claimed that a comet he was tracking for a while suddenly disappeared. We checked it, and it turned out that there was a bug due to which the comet didn't show up in the latest update. We quickly fixed the issue and the complaining user gave us a 5-star rating even before we told him that we returned the comet.
As a result, we got a satisfied customer and a fixed bug we didn't know about.
6 types of bad reviews (and how to respond to them)
First, set a goal — what do you want to get with your response? When we respond to a bad review, our goals are:
to fix an issue a user has met;
to change the user's opinion for the better;
to get a better rating.
Then define a review's type — depending on it, a review will require a different approach. From our experience, we highlighted 6 types of bad reviews.
The useful reviews
This type is your key to improvement. Especially pay attention if you receive the same bad feedback over and over or when users repost about bugs. Show users that you react to their complaints and make sure to follow up — if you fixed a bug, inform a person who reported about it. You can also ask for a better rating, but users usually update their reviews without a reminder when a problem is fixed.
Negative reviews where users consider something as a bug or malfunction (when it's not) are useful as well. Here is an example: a user thought there was a bug in the app because the green dot indicator on his iPhone was on even when the camera was disabled. We answered: "It's not a bug. We use the ARKit to improve accuracy, even when the AR mode is off. You can turn this feature off from Menu > Settings > ARKit usage". He updated a review and gave us 5 stars.
The common reviews we can't do much about
The name speaks for itself. We often receive many reviews with low ratings where people complain about some things we can't or don't want to fix now or in the near future.
There are 12 languages in Star Walk 2, but users request more; Arabian, Polish, Hungarian — these are the most common inquiries. Unfortunately, localization requires too much time, money, and effort but doesn't pay off in many cases.
Therefore we explain to users that we don't have enough resources to implement a new language and the target market has a too-small audience. It's important to highlight that we hear all opinions, and once we have an opportunity to provide a quality localization, we'll do so.
The accidental negative reviews
This type of review we mentioned above — a good comment with a low rating. The goal here is to let the user know that they accidentally gave us a low rating. We usually wonder if there was a reason behind the low rating and ask to give more stars if there was a mistake.
The "too many ads" reviews
Such reviews are so common we actually made a whole stand-alone category for them. Add here "it's too expensive" reviews — the presence of ads is also about the price eventually.
Our typical answer on a review like this would be: "We need ads to earn money and pay salaries to the team. Unfortunately, developers and content makers can't work for free. To remove ads, you can start a subscription or purchase an ads-removing pack."
When users realize that there are real people working on applications, they complain way less about the number of ads or pricey in-apps. However, if you receive too many reviews like that — check twice if you don't overwhelm users with annoying advertisements.
The crazy reviews
Sometimes there is just a poop emoji and 1 star in the store, and that's it. Just report it — if you're lucky, the store will delete this review. But don't worry if it doesn't — hardly someone will take this into serious consideration.
The generally hateful reviews
Some reviews have nothing to do with your product — a person who wrote it was just not in the mood. He might change his opinion later (or not), but you need to show in your answer that you're able to communicate with all users.
Explain to them that the issue they faced has a simple decision and can be fixed quickly. For example, to 1-star reviews complaining about loud music and sound, we answer that the music can be turned off in the settings by one button. It's quite an obvious setting, but people might be already annoyed by something besides your app and that was the last straw.
Top 5 Weirdest Reviews on Star Walk 2
Delete this app which is PURA KAKA.
There are a lot of worse apps than this one.
Dota 2 copy, don't download.
Scammers, there are no stars inside my house!!!!
🍺💪
Hope you found this article interesting. If so, share it with your friends on social media.
Sincerely yours, Vito Technology Team.