News
The First Release on AppGallery
Apr 30, 2021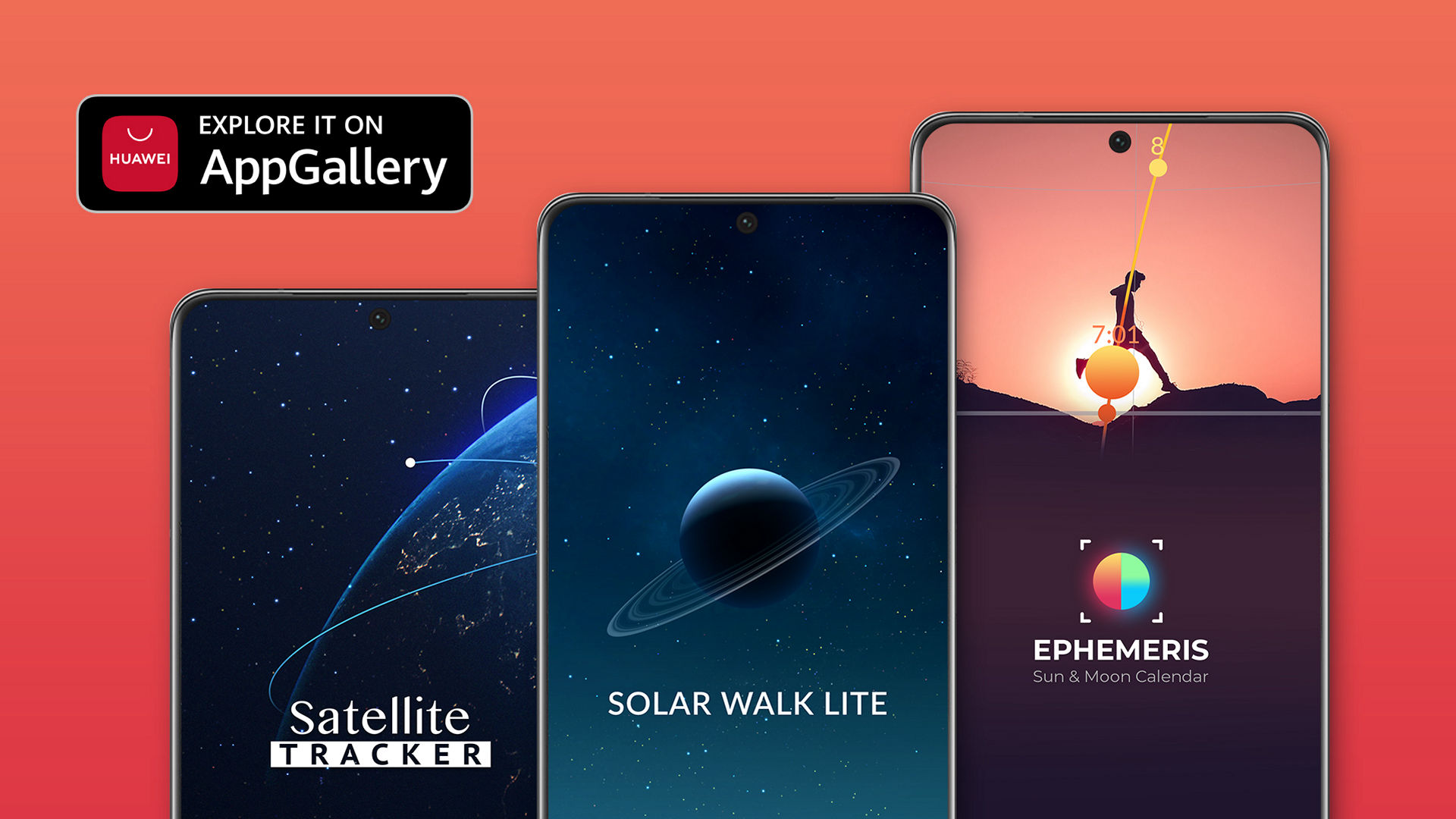 Great news! Vito Technology recently released three apps on AppGallery: Solar Walk Lite, Satellite Tracker, and Ephemeris. Now we're officially present on Huawei in various countries, including Japan and Russia. Let's talk about this in more detail.
What's AppGallery?
Huawei AppGallery is the official Huawei app store for downloading apps for the Android operating system. It was first launched in 2011 in China and went worldwide in 2018, pre-installed with all new Huawei mobile devices.
AppGallery has become the world's third-largest mobile app store. The platform:
has over 500 million active users;
is available in 170 countries;
has over 2.3 million registered developers;
reached 350 billion app downloads.
What apps are available on Huawei's AppGallery?
As mentioned above, our first three applications released on Huawei AppGallery are Solar Walk Lite, Satellite Tracker, and Ephemeris. You can easily find them in the store — just put the name of an app into the search field. Tap on the corresponding result to open the app page. There, right under the comments section, you'll see other apps from Vito Technology — go ahead and explore!
Solar Walk Lite is the 3D simulator of our Solar System that allows exploring planets, stars, satellites, comets, and other space objects. It's absolutely free, ad-supported, and minimal in size, but it shows you all the main features and celestial bodies of the Solar System and the Universe. The app contains no in-app purchases.
Satellite Tracker is a powerful free application that will help to observe and track artificial satellites, like Starlink and the ISS. It can show the exact position of any satellite above the Earth and send notifications when the satellite you're interested in will be passing over your location.
Ephemeris is a free photo planner tool. It's perfect for those who are interested in outdoor photography and astrophotography in particular. The app contains precise trajectories of the Sun, the Moon, and the Milky Way and lets you predict sunrise and sunset times, golden hour, blue hour, twilight, and other special moments.
Satellite Tracker and Ephemeris are free apps containing subscription options with seven days of a free trial. To manage your subscriptions, open AppGallery, tap "Me" in the lower-right corner of the screen. There tap on your profile (Account center) and choose "Payment and purchases". Via the "Subscriptions" option there you can see all your active and inactive subscriptions.
Which app to release next on Huawei AppGallery? Contact us and share your suggestions!
Sincerely yours, Vito Technology Team.