News
Sky Tonight by Star Walk Released on AppGallery
Jun 11, 2021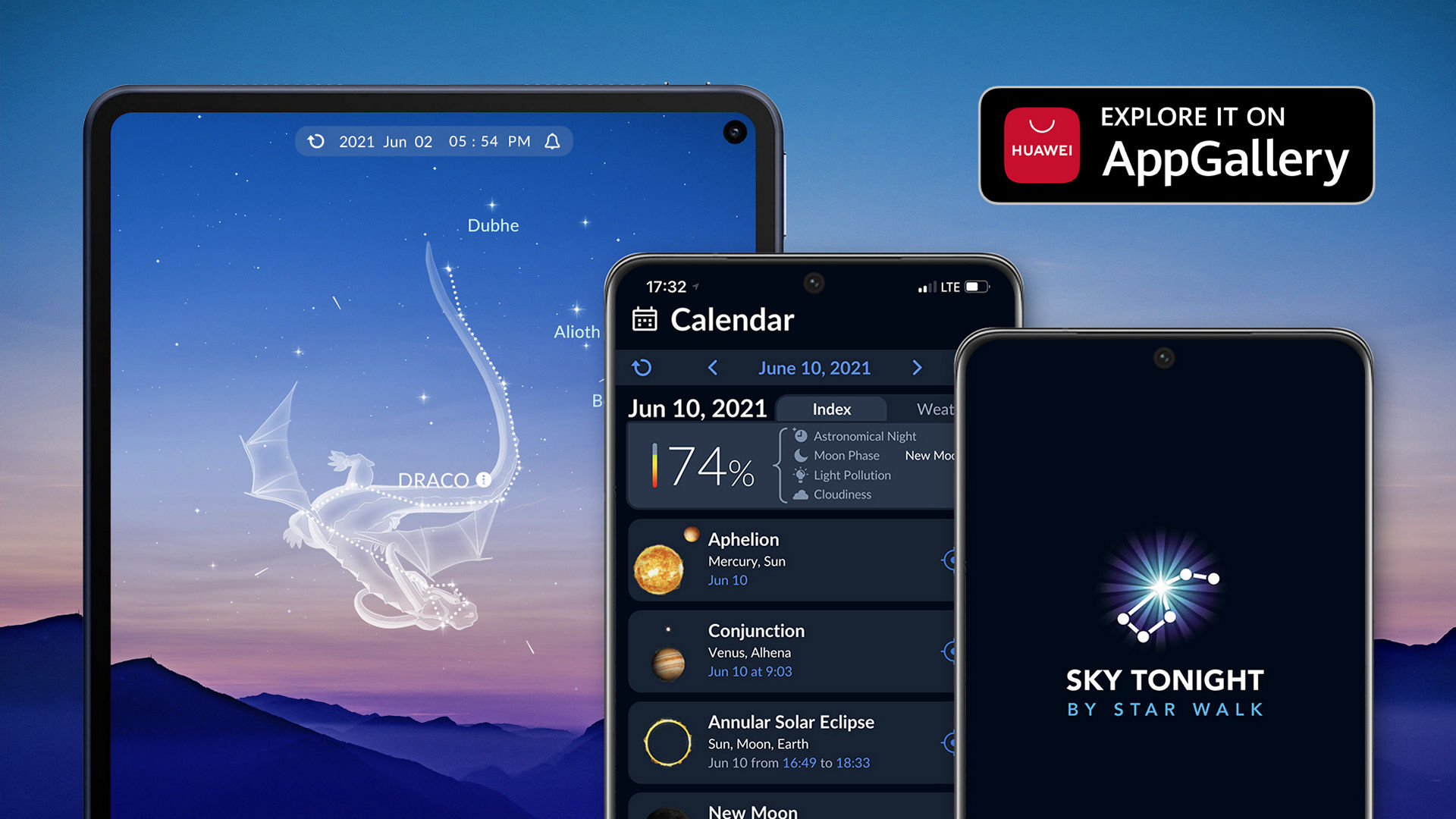 Recently, the Vito Technology company released a new app for stargazing on AppGallery — the Huawei app store. This app was named "Sky Tonight by Star Walk". Today we'll tell you more about this product and its fundamental differences from other stargazing apps.
What is Sky Tonight?
Sky Tonight by Star Walk is a brand new powerful tool for exploring the sky. It's based on an analysis of 10-years-work with Star Walk 2, therefore the needs and wants of stargazers all over the world.
Sky Tonight helps to answer the three most common questions:
What celestial object am I looking at?
What objects and astronomical events can I see tonight?
How can I find the object I'm interested in?
What are the distinguishing features of Sky Tonight?
Sky Tonight is a result of thorough research; there are multiple new features (in comparison with Star Walk 2) and several updated ones. Let's take a closer look!
Flexible Search
With the flexible search, you can quickly find the object you're interested in, easily navigate across different objects and events' types. Look for "stars", "mars moons", "mars conjunctions", "solar eclipse", and the app will show you all related objects, events, and articles!
There are also Trending and Recent categories in the search section. The first one presents the currently most popular objects, events, or news; the second category contains objects you recently selected.
Different Trajectories
In addition to the classic trajectory (the "relative to stars" option in the app) that shows the object's trajectory in the celestial sphere relative to the Earth's center, the app presents the object's trajectory in the sky relative to an observer. It's an absolutely unique feature not present in other stargazing apps! Now you can truly see how a celestial object is moving relative to you, not the Earth.
A long touch on the trajectories relative to the observer will move the sky object to the selected point. While holding the touch, move your finger along the trajectory to change the time. You can switch between the two types of trajectories or turn them off.
Apparent Magnitude Filter
In Sky Tonight, you can sort out objects depending on their visibility. Open the Visible Tonight section and tap the bar under the date. There you'll find the Magnitude Limit. Set it to make the app show only objects visible with a naked eye or those that can be seen via binoculars and telescope. Moreover, each object has visibility prediction icons. They indicate how an object can be observed — with the naked eye, through binoculars, or a telescope.
Castomizible Event Reminders
Sky Tonight allows setting an event reminder at any time and date. It means that you can create a reminder for a solar eclipse, a Full Moon, a close conjunction, or just a star-planet configuration you're interested in. You choose a reminder goal — just move time to the future and tap the bell icon on the time panel.
Astronomical Calendar
This calendar of celestial events includes lunar phases, meteor showers, eclipses, oppositions, conjunctions, and other exciting events. There you can learn what astronomy events will occur this month or see what happened in the sky a year ago.
Stargazing Index and Weather Forecast
These features help to predict the conditions for stargazing. You can find them in the Visible Tonight and Calendar sections. The stargazing index is calculated from a Moon phase, light pollution, cloudiness, and time when an object is visible — the higher this index is, the better the observation conditions are. Moreover, while planning observations, you don't need to switch between several apps — Sky Tonight includes all necessary details, even the weather forecast.
Bottom Navigation
Many stargazers use both optical devices and a mobile app during observations. We listened to their needs and implemented the bottom navigation menu that doesn't interfere with the main app's content and is easy to use with one hand.
Is Sky Tonight free?
All features of Sky Tonight are free to use. However, if you don't have premium access, the app's content will be partially blurred.
With premium access, you can use Sky Tonight without limitations and get access to all interface items in any category — Visible Tonight, Calendar, Search, and more. Ads will also be removed.
This was a quick overview of our brand-new Sky Tonight app that is now available on AppGallery.
Sincerely yours, Vito Technology Team.